Final post of the night, I promise. After this I will be all caught up from my backlog of reviews. And, little teaser, the next one will be Empire of Storms by Sarah J. Maas because there's no way I'm not devouring that as fast as I can if it's even half as good as her other books. But in the meantime, here I am, eyelids drooping and alarm set for work tomorrow. But before I succumb to sleep, I want to tell you about The Wrath and the Dawn by Renee Ahdieh.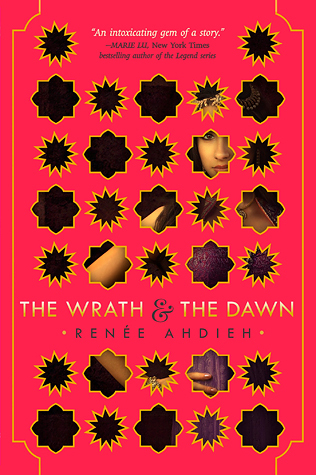 Retrieved from Goodreads
Every night the King of Kings, Khalid, weds a girl. The next morning she is killed. No one in the city of Rey understands why. Shahrzad intends to find out, and then she'll kill the king. She is the first girl to volunteer to become Khalid's bride, and no one trusts her for it. She must captivate the king long enough to learn his weaknesses and then seek revenge on the man who had her best friend killed. But first she has to survive the dawn.
Ahhh, here is the breath of fresh air I've been looking for. The beautiful world with the interesting dialogue and food porn and characters that aren't cardboard cutouts. I literally had to eat after reading this book every time I picked it up. The tales of Shahrzad mix well with the rest of the story, but don't overtake the whole book in too literal of a retelling. The romance with Khalid was a slow burn that actually made me care about it. The breakaways to other POVs were interesting, though left a bit to be desired in character development. Despina and Shazi made for great banter, and Jalil is a character I'm really excited to see more of in future books. The magic is something I hope is better developed in the next books, but if it is then I'm willing to think of this book as a slow burn like Throne of Glass was. In the end, I liked this book way more an I intended to and I'm incredibly excited to read the next one!
Goodreads Rating: 4 Stars
Up Next: Empire of Storms by Sarah J. Maas