Wow, am I behind on my reviews. It's been nearly a month since I've posted, and I promise it's not for lack of reading. It's just an excess of stuff happening in my life and, well, a smidgen of laziness. You see, after I read two books and didn't get around to reviewing them, I kept reading. So the number of reviews piled up. But now I'm taking a short break from working on the final chapters of my 6th book, Masque, and I really should catch up. So here we go, starting off with a review of Their Fractured Light, the final book in the Starbound series by Amie Kaufman and Megan Spooner.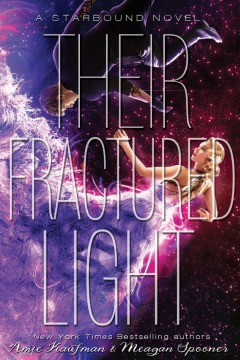 Retrieved from Goodreads
It's been a year since Flynn and Jubilee made the Avon Broadcast. Two years since Tarver and Lilac were rescued from a horrendous shipwreck on an abandoned planet. Now, on Corinth, hacker Gideon Marchant searches for a woman who led to the death of his brother, using everything at his disposal to ruin her and anyone who might have helped her. At the same time, Sofia Quinn has been on the run since her father died on Avon. She's a con artist who can tell the tiniest thought from the smallest expression. She wants Lilac's father to pay for her own father's death, and she'll stop at nothing. But there's something bigger at play: LaRoux Industries has another secret, one deadlier than anything seen before. Flynn, Jubilee, Tarver, Lilac, Sofia, and Gideon come together in this final installment to expose LRIs plans and save the universe.
Okay, that may be an insanely broad description of this book. But if you read the other two, you know what I'm talking about. Sofia and Gideon are awesome. They have similar slippery moral codes, and they can lie and cheat like nobodies business. And above all, they do not trust. So seeing these two have to work together in the really interesting setting of Corinth, was great. And the scenes where all six main characters are together are awesome. There were some heartbreaking bits, and some funny bits, and some incredibly sweet bits. If I were to complain about anything, it's that I felt like I wanted more Sofia and Gideon one on one after the other four showed up. While I loved seeing Tarver and Lilac and Jubilee and Flynn again, I wanted to know more about these new characters. The ending as well was a little neater than I would have liked considering the huge consequences of what happened in the climax (trying really hard not to be spoilery). But overall, I really enjoyed this book, and it's one of the best collaborations I've read to date. Would absolutely recommend this series.
Goodreads Rating: 4 Stars
Up Next: Invisibility by Andrea Cremer and David Levithan