Here we go! Review number two. I have actually had this collaboration on my shelf for a couple years. Other books kept getting in the way, and to be honest, as the Goodreads rating got lower, I became warier of reading. And, in some respects, I was right to. But we'll get to that. Hm, usually I try to add something interesting or pithy up in this bit...Oh! My SO gave me a ladle for Christmas. Before you raise your eyebrows at that, it is the most awesome ladle ever. It's shaped like the Loch Ness Monster, so when you put it in soup it looks like the iconic picture but more adorable! Anyway, on with the review!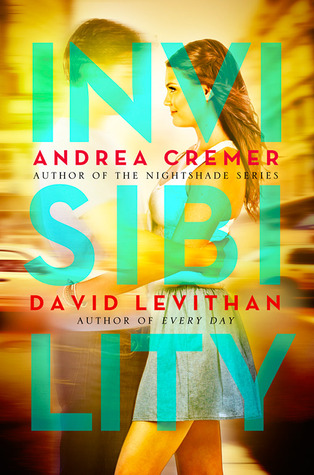 Retrieved from Goodreads
Stephen has been invisible his entire life. His mom was the only person who knew him and stayed with him. But now she's gone, and he's left to deal with the curse that made it so no one can see him. Until the day that someone can. Elizabeth just moved into the apartment next door, and she can see him as if he were a regular boy. Why? The two work together to find that out. Maybe, just maybe, they can save Stephen from fading away completely.
Sigh. This book. It had such potential. And one of the saddest things for me is books that don't reach that potential. I expected this book to be something along the lines of Before I Fall or If I Stay. And it sort of started out that way. You get a really cool look at what it's like for Stephen to have no one see him, and how he has to change his behaviors once someone can see him. But that quickly fades into a sort of weird plot about people who can cast curses, and those that can detect them, and trying to find the big bad grandad who put the curse on Stephen. There's instalove and a not-so-scary villain who disappears as soon as he appears, and not very well fleshed out minor characters. But I might be able to forgive most of that, because of the beginning of the book, if not for the ending. The cop-out ending which might as well have ended in the middle of a sentence for how much is resolved the plot. Wow, I didn't realize I had such strong feelings about this. I've heard great things about David Levithan, so I'll probably try one of his books someday, but if there is ever a sequel to Invisibility, I don't think I'll read it.
Goodreads Rating: 3 Stars (more like 2.5)
Up Next: The Exiled Queen by Cinda Williams Chima