Man am I late in writing this review! I actually finished this book last week, but I had a very busy weekend dressing up as the 11th Doctor. I hope you all had a great Halloween as well! I spent my time baking with some great people and watching a baking show. But before that I read The Demon King by Cinda Williams Chima over the course of a couple days. This is the second series of Chima's that I'm reading, the first one being The Heir Chronicles. And, since I'm feeling lazy, I'm just going to copy-paste the Goodreads description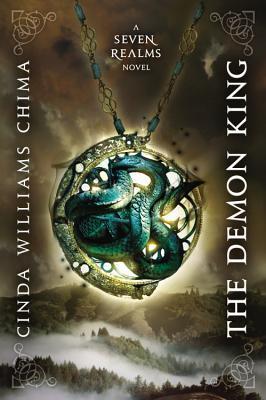 Retrieved from Goodreads
"

Times are hard in the mountain city of Fellsmarch. Reformed thief Han Alister will do almost anything to eke out a living for his family. The only thing of value he has is something he can't sell—the thick silver cuffs he's worn since birth. They're clearly magicked—as he grows, they grow, and he's never been able to get them off.

One day, Han and his clan friend, Dancer, confront three young wizards setting fire to the sacred mountain of Hanalea. Han takes an amulet from Micah Bayar, son of the High Wizard, to keep him from using it against them. Soon Han learns that the amulet has an evil history—it once belonged to the Demon King, the wizard who nearly destroyed the world a millennium ago. With a magical piece that powerful at stake, Han knows that the Bayars will stop at nothing to get it back.

Meanwhile, Raisa

ana

'Marianna, princess heir of the Fells, has her own battles to fight. She's just returned to court after three years of freedom in the mountains—riding, hunting, and working the famous clan markets. Raisa wants to be more than an ornament in a glittering cage. She aspires to be like Hanalea—the legendary warrior queen who killed the Demon King and saved the world. But her mother has other plans for her..."
First off, this series feels very different to The Heir Chronicles, in a good way. It gets off to a slow start, but I became committed to the characters. I liked Raisa and how she wants to do good and is constrained by a mother who won't listen and her lack of real-world experience. I felt for Han, who just wanted to do right by his family but no one seems to let him. And I really liked Raisa's love interest whose name escapes me at the moment. For a while I was worried the story was going to devolve into a "princess learns what life is really like on the mean streets" story, and while there is an aspect of that, it doesn't last very long. Instead, it just adds flavor to Raisa's story. There's intrigue, which I always love, and a not-very-well-defined villain. But honestly I didn't mind that much, as this story felt like a really big set-up for the next book. The world is expansive and fleshed out, which I always adore in a high fantasy novel. To tell the truth, I'm more excited about reading The Exiled Queen than The Dragon Heir. While I can't give this book five stars because of the pacing, I'm excited to see where these characters take me.
Goodreads Rating: 4 Stars
Up Next: Red Rising by Pierce Brown