Unless you're a first-time visitor to this blog, you know about my undying adoration for Sarah J. Maas. It was, I think, three years ago when I picked up Throne of Glass, not knowing my book world would be changed forever. Yes, I already adored epic fantasy, but there hadn't been one since Tamora Pierce's books that really floored me. Graceling was close, but not quite on the same level. Throne of Glass is the only book I've reread in the last four years. I don't have time to reread anymore. There are too many new books to discover. But Throne of Glass, Crown of Midnight, Heir of Fire, The Assassin's Blade, and now Queen of Shadows have stuck with me.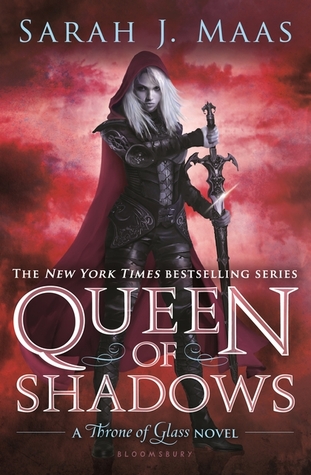 Retrieved from Goodreads
Aelin Galathynius has returned to Rifthold for revenge. The prince is enslaved by a demon commanded by the king, and Chaol is on the run. The rebels in Adarlan are organizing, but evil walks the streets with black rings on their fingers. The King of Assassins pulls the strings of people who would rather see him dead. And somewhere in the mountains is Morath, where the witch covens train with their wyverns, waiting for glorious war.
This book is really hard to describe. It's the fourth book in an epic fantasy series, and you see old players and new ones appear. My ship of Chaolaena seems to have sunk, and while I am incredibly sad about that...it also made sense considering what happened in the last book. I read this book over three days because I had work, and when I did read it I don't think I blinked at all. It's exciting and sizzly and Manon gets way more developed in this story which is awesome and I love her wyvern. Lysandra is probably one of my new favorite characters in the entire series, and it was exciting to see Aelin and Arobynn meet again. There's action and devious plotting and I adored this book. One day I will sit down and rank these books to figure out which one I like best because I can't say right off the top of my head. If there was one thing that bothered me about this book, it was that we don't get to see as many of Aelin's fights as I would have liked. Oh, and I suppose is got a little wearing to hear how awesome she was. But honestly, I think she's amazing so these are tiny little things. I can't believe I have to wait another year for the next one! Ugh! At least the second ACOTAR book comes out sooner.
Goodreads Rating: 5 Stars
Up Next: A Darkness Strange and Lovely by Susan Dennard