I thought I'd put the sweltering heat behind me in July in the PNW. I guess I didn't realize California is in a perpetual state of PNW summer. Since it's so unbelievably hot, I haven't had much energy to anything besides laze on the couch in front of the hurricane fan and read. Did I mention that I got copies of Fever and Sever a few months ago on deep discount? I love discounts.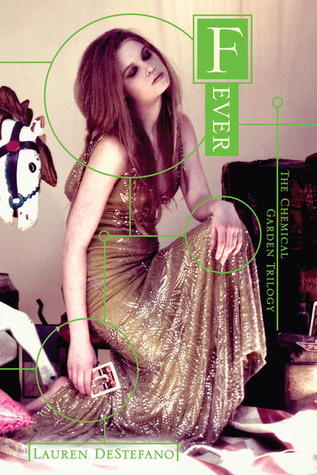 Retrieved from Goodreads
Rhine and Gabriel have escaped the mansion and are on their way to New York to find her brother. But Rhine can't escape her past, or what the world has become. From prostitution in a broken down circus to crazy tarot readers and first generation people destroyed by their children dying so young, to her father-in-law haunting her every move, Rhine doesn't feel like she's escaped at all. But she has to go forward, because her time is running out and she wants her brother.
I so wanted to like this book. I adore Lauren DeStefano. I think if you go through my twitter history you'll see that a ton of my favorites and retweets are of her. She understands social anxiety and is cuttingly witty about life. I just wish that had transferred to this book. My biggest problem with the first book in this series, Wither, was that a lot of the action was summarized and described after the fact. This is compounded in this book, not only summarizing things instead of showing them, but also referring to a lot of stuff that supposedly happened in the last book but the reader never got to see. So it's referring to a reference, which makes it even harder for me to connect with Rhine. I couldn't find her father-in-law creepy because I never really saw him do creepy stuff, just heard about it. I didn't get the romance with Gabriel because it only seemed to exist in summary rather than the present. And to be honest, I have no idea what the plot of this story is. Rhine's not trying to find a cure for the disease, and her desire to find her brother doesn't seem visceral. This book is entirely a hop from one place to the next while trying to run away, only to end up exactly where she started where she proceeds to do nothing. And I'd be okay with that if Rhine were a more developed character. Sigh. Yeah, I'm hating on this book, but it's mostly because I'm so disappointed because I wanted to love it. I'm going to read Sever, mostly because I already own it. But I don't think I'll be reading more of DeStefano's published works. Instead I'll stick to her Twitter.
Goodreads Rating: 2 Stars
Up Next: Sever by Lauren DeStefano