Yeah, I'm pretty late posting this. It's been a crazy week and I haven't really had the energy to write up a blog post. Today's a catch-up day for me, so expect a couple more posts to follow this one. I never got into the whole zombie craze, just like I sort of missed the slew of everything-vampire romance books. I dallied in the latter after the tide slowed to a trickle, and found some books that I really loved and others where I went "Really?" I'd heard great things about Susan Dennard (Sarah J. Maas seems to adore her, which is good enough for me) so I decided to give Something Strange and Deadly a try. This is the sequel, so beware of mild spoilers.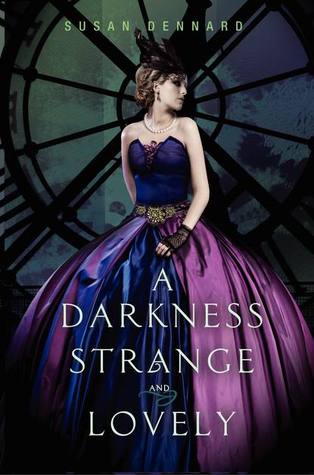 Retrieved from Goodreads
Eleanor Fitt is alone. The Spirit-Hunters have fled from Philadelphia to Paris. Her mother is in a mental hospital and Clarence and Elijah are dead. Eleanor is an outcast, a necromancer, and she's missing her right hand. When Marcus comes back to town, Eleanor hops a steamer to Paris to find the Spirit-Hunters. But someone else is on board, someone who can sense necromancy like she can. Oliver is Elijah's demon, and now it seems he's bound to her. But worst of all, the Dead are stirring in Paris.
I liked the first book in this series. It didn't blow me away, but it was a nice read. This book was much the same. I really like how Dennard paints the world to show the social structures of the day, with some references to fashion and technological advances and architecture. She paints with a deft hand so I don't have to read really long descriptions of things that have very little importance to the story. I like that about her books. On the other hand, like with the last book, the Dead didn't frighten me one bit. This book has much more focus on Eleanor learning necromancy, like really simple necromancy, than the zombies. And (spoiler) I wish her hand had stayed gone. It would have made it much more interesting to see how she got through the world as an amputee. Oliver's character is fun, but there's a point where he completely contradicts something he previously said and Eleanor doesn't notice. I'm not sure if it was meant to show how unreliable he is or what, but to me it felt like something that should have been focused on more or corrected. So, once again a pleasant read, if not a book that blew me away. Although, to be fair, the last book I'd read was Queen of Shadows, and it's hard to follow that.
Goodreads Rating: 3 Stars
Up Next: Envy by Anna Godbersen