Aaaand finally I am caught up with all of Cassandra Clare's books in the Mortal Instruments series. City of Lost Souls sat on my shelf for over a year before I finally just got the audiobook in order to get through it. City of Heavenly Fire is better than that in a couple ways, which I'll get into later. I also listened to the audiobook of this one because my eyes have been tired lately and I've been getting more headaches because of it. This way, I could do the dishes and unpack my stuff in my new (*squee!*) apartment while also getting through this monster of a book.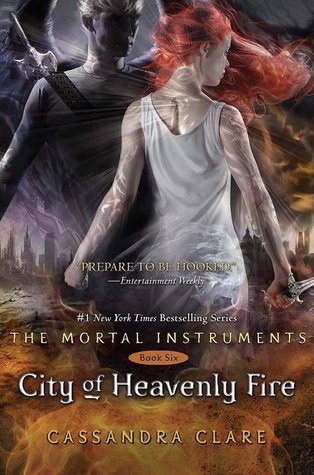 Retrieved from Goodreads
Heavenly fire still burns through Jace's veins. Clary's evil brother Sebastian is Turning Shadowhunters into something horrific, and then sending them to fight the Clave. After several massacres, the Shadowhunters retreat to Idris to make a plan of attack, but the Downworlders now have no protection, and Sebastian is preying on them too. Jace, Clary, Alec, Isabelle, and their Downworlder friends Simon and Maia are the only ones who know more about Sebastian, but even that might not be enough to stop him.
So many characters in these books. Looking at that description it seems pretty incoherent, but this is the last book in a six-book series, so there are a lot of terms like Clave and Turning and Downworlders that just can't be explained again at this point. The plot's been in motion for so long it seems pretty...dull to describe it again. I'm just going to give my impression on the story lines instead. Jace and Clary: Got resolved in the last book so this book mostly just reaffirms again and again that they love each other. Sort of dull, sort of nice. Alec and Magnus: So sweet. Love them. Very real depictions of different people that have sass and vulnerabilities that complement each other. Isabelle and Simon: Since I recently read Sinner by Maggie Stiefvater I had a hard time divorcing Isabelle Lightwood and Isabel Culpeper. To be fair, they are surprisingly similar characters. But I liked Simon and Isabelle. They're a charming couple who aren't as dramatic as Jace and Clary are. Clary and Sebastian: I didn't care about this relationship until the last...two chapters of the book when it became more interesting. But I liked that it built over a couple books. Maia and Jordan: What? Just....what? Talk about a loose end that was just cut off so it didn't have to be complicated. I did not like the way it was resolved, plain and simple. Such a cop out. Let's see. Everything else: Like most of these books, the action is well written and the story gets dragged out for too long (*cough* 725 pages *cough*). But I still like the dialogue and Magnus and Isabelle, and the epilogue had a lot of Harry Potter epilogue-esque fun to it. I might try the Dark Artifices, I might not. We'll see.
Goodreads Rating: 3 stars (Might be generous and say 3.5)
Up Next: Fever by Lauren DeStefano