When I first started reading The Winner's Curse, for some reason I thought it was sci-fi. I honestly couldn't tell you why I thought that, but I had this weird, medieval-but-with-space-travel picture in my mind. Maybe I'm just excited for the Their Fractured Light to come out. Or maybe I'm missing Firefly, I dunno. But anyway, I really enjoyed the first book in this series, although I didn't care much for the narrator of the audiobook. I'm working my way through the books I got for my birthday, and this one was next on my list!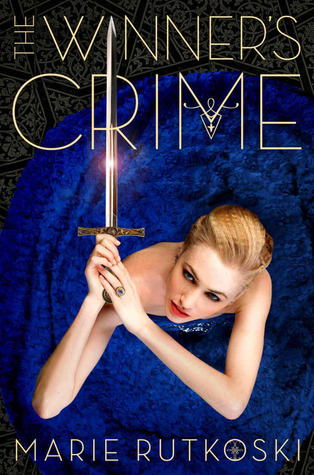 Retrieved from Goodreads
Kestrel is going to become the empress. She traded her freedom to save Arin, the new governor of the territory Herran. Now she's stuck in court, where people place bets on what her wedding dress will look like and her fiance hates her. It will be nearly a year until her marriage, but there will be events right up until the day, events that demand the presence of a certain governor. Unbeknownst to Arin, Kestrel becomes a spy for the Herrani, a gamble that, if she loses, could cost Kestrel her life and the lives of everyone she loves.
Okay, that is an admittedly crappy description of what this book is actually about. At the end of the last book, Kestrel didn't tell Arin that she got engaged to save him and his people. So he thinks it was just her trying to get power, play the same games as when the Valorians were in power in Herran. But really she's just trying to save him because she knows he'll do something stupid if he knows she's not happy. So, now that I've got the less elegant description out of the way, on to the review. I really enjoyed this book. Kestrel has a very calculating mind, and I always adore court intrigue. I felt so bad for Kestrel and Arin, even when I was mad at them both for being stupid. There are great details about clothes and cultures and food that really expanded the world beyond Herran. While admittedly, the big secret that Kestrel is trying to unravel while snooping ends up only involving a couple people and a few days of snooping, you don't mind that the story is slower because the writing is so good. There's a thing with a dog that made me incredibly sad, but I won't say any more about it here. You'll just have to read the book yourself. Love this series, and I can't wait to read the final book!
Goodreads Rating: 4 Stars
Up Next: Ruin and Rising by Leigh Bardugo