I adore Maggie Stiefvater. I have read pretty much everything she's published. It took me a while to work up to wanting to read the Wolves of Mercy Falls series, but when I did I loved it, if not as much as The Raven Cycle, then nearly as much. I just like magic more than paranormal in general. But that didn't stop be from tearing through Shiver, Linger, and Forever. Then I found out there was going to be a companion novel about Cole and Isabel, basically my two favorite characters from the series. But I have this habit of keeping books in the same for as the first one in the series. So since I had the Wolves of Mercy Falls in paperback, I needed to wait for Sinner to be in paperback. And it finally is!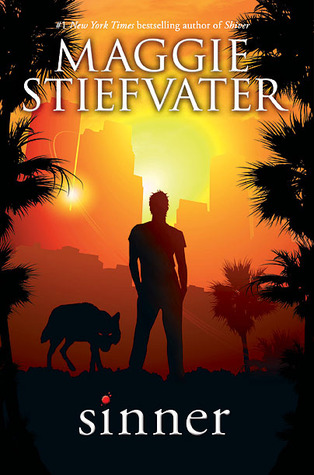 Retrieved from Goodreads
Isabel's family moved to L.A. after everything that happened with the wolves in Mercy Falls. She's studying to be a CNA, she's working a boring job in a boring pretty shop, and she does her best not to think about Cole. Cole just came to town to film a reality show as he makes his next album. But he's also there for Isabel. She's the only one who understands why he says things just because they sound good. But just because they want each other doesn't mean it's going to work out. He's a wolf. She's a girl. Stranger things have happened.
So first and foremost, this book is not about werewolves. It's there, but it's absolutely in the background. Becoming a wolf is Cole's vice, but he's not doing it that often. This story is more about Cole and Isabel and all the stuff that keeps throwing them together and yanking them apart. Honestly, I enjoyed the story, it was interesting to see what happened with the reality show and with Isabel's family. But it's the characters I read this book for. I loved Isabel and Cole in the Wolves of Mercy Falls, so much so that I wished they'd had more page time. So getting to read how fierce and broken these two people were was a treat. That makes me sound like a horrible person. If you haven't read any Stiefvater, you need to now because then you'll understand what I'm talking about. Overall, if you're looking for a paranormal book, this isn't for you. But if you're looking for an amazingly written, tantalizing, beautiful book about two fascinating characters, this is for you.
Goodreads Rating: 5 Stars
Up Next: The Winner's Crime by Marie Rutkoski