I met Leigh Bardugo at a book signing last year. I laughed so much. She's a hilarious person, who gets just how fun it is to write food porn. She's right up there with Sarah J. Maas and Maggie Stiefvater on my list of favorite authors to see in person. So it killed me to have to wait an extra year before reading Ruin and Rising, the last book in the Grisha trilogy. I should have just gotten it in hardback, but I already had the first two in paperback sooo...But I won't make that mistake with Six of Crows. Oh no, hardback all the way, baby. Anywho...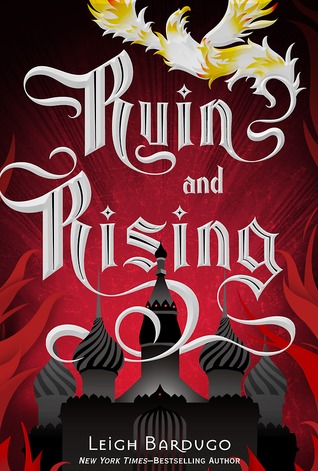 Retrieved from Goodreads
The Darkling sits on the Ravkan throne, and Alina Starkov is still missing the final amplifier, the one that might make her powerful enough to defeat him. She's underground, worshiped as a Saint, healing from her last battle, one where the Second Army was decimated. With the Darkling on the throne and more people dying every day, Alina needs to become as powerful as possible, even if it means destroying herself in the process. With her band of Grisha and friends, she sets off to find the Ravkan prince and the last amplifier. But even if they find the amplifier, Alina's not sure it'll be enough to defeat the Darkling.
Mmmm Leigh Bardugo's writing. Sassy and beautiful and properly sad. I just...enjoy her books. There is nary a sentence I pause at and go "eh." It isn't the lyrical poetry of a Stiefvater, or the stabbing pain and humor that is a Sarah J. Maas book. Instead, it's somewhere in the middle and it's delightful. The world is richly textured, and the dialogue is powerful and snappy. I adored Oncat (a cat whose name means cat) and Nikolai and Zoya and Alina. Mal was a bit boring, but honestly, he's not the point of the story, Alina is. And Alina has so much painful stuff happen to her, and she has to balance being powerful and wanting more power with being human. All in all, this book wasn't as sad-inducing as the first two books, but it's beautiful and fun and written very well. It's not often I finish a book and then read the last few pages again, and the acknowledgments, and the short story afterward. I dunno, Bardugo just draws me in. I can't wait to see what Six of Crows is like.
Goodreads Rating: 5 stars
Up Next: Rumors by Anna Godbersen