Yeah, I know, it's been a while since I posted. I have been reading, but not very consistently. I spent the week in the 90 degree weather in California in the Happiest Place on Earth. Yup, Disneyland! It was so much fun, and I got only a little sunburned. But now I'm back home and there are a million things to do. My phone broke so I need to pick out a new one, I've got laundry and dishes to do and work to do and reading to catch up on and resumes to send out. It's insane. But I just finished off Stitching Snow by R.C. Lewis and I thought I'd tell you guys about it.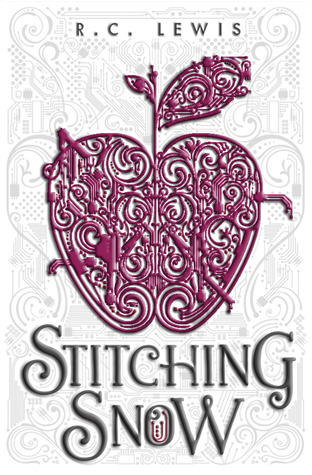 Retrieved from Goodreads
Essie has been on Thanda for years, patching the mining drones and keeping herself safe with her reputation as a cage fighter. But change is blowing through the cold planet. A ship has crash landed nearby carrying Dane, an offworlder who makes Essie think about the life she escaped all those years ago. The war between the Exiles and the Crown is raging on the capital planet of Windsong, and Essie is a key player. All Essie wants is to be left alone, but the choice is about to be taken out of her hands.
The first half of this book really grabbed me. I love fairytale retellings, and a sci-fi Snow White where Snow's appearance has been genetically engineered and she has seven drones instead of seven dwarves? Awesome!! I loved reading about her cage fighting and her place on the mining planet. And I even liked it when she left Thanda and got to see other places. But...somewhere along the way, the plot got too simple for me. This book is about a system-wide war with lots of different planets and a people who can Transition into other peoples' minds and Tip their opinions. But it's not explained how, nor really taken advantage of, and the arc doesn't have an end. The possible royal coupe is so...simple. And while I really wanted to love Dane, I just couldn't. He never distinguished himself to me. So while I loved the first half of this book, the second half let me down. If ever a story needed more than one book, it was this one. I love the title, though. Adore it, and the cover.
Goodreads Rating: 3 Stars
Up Next: The House of Hades by Rick Riordan