Just this past week I celebrated my anniversary with my SO. Now there are many things to celebrate on an occasion such as this...love, commitment, friendship. And we did all those things. But I also celebrated something else very awesome. 1) I got a TARDIS satchel. My collection of things Doctor Who related now includes a TARDIS cookie jar, said satchel, 2 rings, my 11th Doctor costume, and a set of cookie cutters. I am not ashamed of any of this. 2) A copy of Sarah J. Maas's new book, A Court of Thorns and Roses. All you have to do is look back through my reviews to know how much I love Sarah J. Maas. In my books she's right up there with Maggie Stiefvater and...like...oxygen.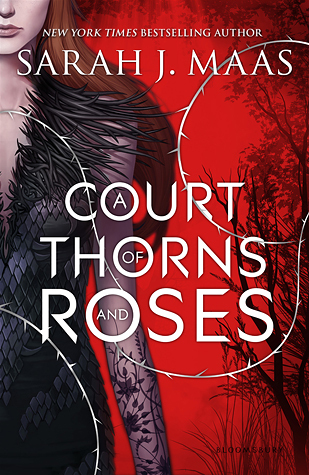 Retrieved from Goodreads
When nineteen-year-old Feyre kills a wolf in the woods, she has no idea the chain of events she'll set off. For that wolf was not a wolf, it was a faerie, and now the fae on the other side of the wall that separates the faeries from the humans want revenge. Feyre is swept away to the Spring Court of Tamlin, a beastly creature with immense powers. But he can also look sort of human. Feyre is to spend the rest of her life in the manor as penance for her crime. In return her family will be kept safe. But something lurks beyond the the Spring Court, sending evil creatures to nip at Tamlin's borders. There's a blight leeching the magic and life from the land, and it could easily spread to the human realm.
Oh, this book. It opens with one of the most stark descriptions of hunting and bringing food to a starving family that I've ever read. It reminded me of Leigh Bardugo's work. And then you get a whirlwind introduction to the lands of the faeries and their courts. And then...oh the romance and Feyre. She's so flawed, so strong, so unapologetically who she is. And her and Tamlin...whoo-ee. They made me blush. And just when I was missing the action and brutality of the first part of the book, everything is ripped apart and Feyre, who was just starting to soften up, has to return to the tough hunter she was back in the human realms. This book...I...can't...words. Sigh. This book has much less political intrigue and awesome outfits than the Throne of Glass books, and there's much more emphasis on the romance. And I've read some reviews bemoaning this. But honestly, I loved this book. I loved the world that Maas created, loved how the names and the people and the stories didn't seem contrived to fit the mold of a beauty and the beast story. I love that the next book will probably see the romance take a backseat to the Big Bad doing bad things. I love Maas's work and I am already foot-tapping for Queen of Shadows in September. If I had one complaint about this book, it was that the pace was not breakneck in a few places I thought it could have been. But overall, LOVE.
Goodreads Rating: 4 Stars
Up Next: Ignite Me by Tahereh Mafi (I swear this time!)