Well, that's that. So many years later I have finally finished reading the Clockwork Angel series by Cassandra Clare. It was on a whim that I picked up City of Bones in a secondhand bookstore, and I have read seven of Clare's books since that fateful day. In other news, life is busy but comfortable. I'm applying for editing jobs and reading and brainstorming Spiral and spending time with my friends and SO. I'm making sure to have fun and relax as well of course. But anyways, on with the show!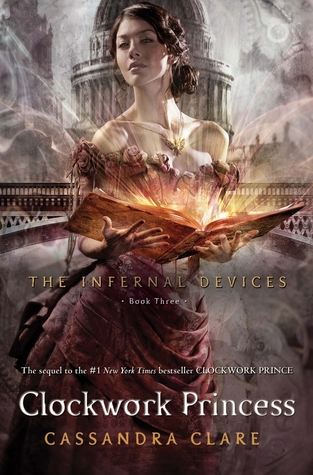 Retrieved from Goodreads
Mortmain and his clockwork army are closing in. He's bought up all the yin fen as leverage to make Tessa come to him. Without the drug, Jem is dying faster, and all he wants is to marry Tessa before he's gone. Meanwhile, Will searches for a cure for his brother in arms, but his heart in torn as he still loves Tessa. The Consul won't listen to Charlotte's evidence of Mortmain's plans, and time is running out.
The Clockwork Angel series was never about action, though the action sequences are nicely gross. Instead, this story(series) is about the relationships between the characters. Tess loves both Jem and Will, and both of them love her and have an incredibly strong bond between each other. Gideon and Gabriel Lightwood are falling for Cecily and Sophie respectively, and Charlotte is pregnant with her husband Henry's baby and has to deal with the misogynistic Consul. So it's all very romantic, and the descriptions of London make me want to go back. I did love it there. So while I mostly enjoyed this book, and the well-developed characters and world, there were a few too many declarations of undying love for my taste. And I could have used some more action, considering the consequences if the Shadowhunters lose to the clockwork army. The reveal of what Tessa is was nicely done I thought, and the fact that she is won't age is made heartbreakingly sad. A lovely audiobook. I miss British accents. The epilogue made me tear up. Hm, what else to say. My favorite book of Clare's is still City of Bones. I guess that's all I've got!
Goodreads Rating: 4 Stars
Up Next: Fever by Lauren DeStefano