I've been laid up in bed for a couple days, so I decided to do something different. When I was a kid, and my parents would take me on long road trips, we'd often stick a couple of books on tape in the car. Harry Potter, the Hobbit, All Creatures Great and Small, etc. I adored them. And I've listened to Harry Potter many many times over the years. But I haven't branched out of the audiobooks that I heard as a kid with the exception of Oliver Twist which I can't honestly say I enjoyed. But I also want to be careful with my eyes and I love multitasking. So over the last couple days I listened to The Winner's Curse by Marie Rutkoski and I am now a third of the way through White Cat by Holly Black.
It was on a whim that Kestrel, the General's daughter, bought Arin from the slave market. She's not even sure why she did it. It's made society talk about her, and her reputation isn't sterling as it is. But buying Arin might be an even bigger mistake than she realized. He is Herrani, part of the people her father brutally conquered for the Valorian emperor ten years ago, and he hasn't forgotten. Arin is part of the brewing rebellion against the Valorians. But as war edging nearer, he becomes conflicted. Kestrel must decide by spring whether to enlist in the military or marry, per a deal with her father. But she has no desire for war, and no one she loves. But as her friendship with Arin deepens, the latter might not be so true.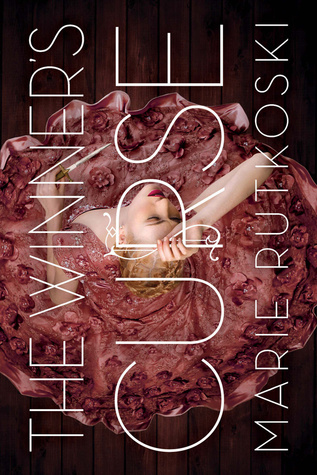 Retrieved from Goodreads
I have been seeing this book pop up over and over in Staff Favorites in book stores, and in my Goodreads feed. But when I read the description, it didn't wow me. Not even the blurb by Kristin Cashore, whose books I adore, could really get me to buy it. But I've been trying to get past this. After all, the same thing happened with Seraphina, and I loved that book. I think I got The Winner's Curse for Christmas, but it sat on my shelf for a while because there was a spurt of new releases I wanted to read first. And I picked it up and sat it down several times until this week. The Winner's Curse is beautifully written. While the first hundred pages are sort of slow, I must say the last half of the book packs a wallop of a punch. Kestrel is both vulnerable and strong, Arin is brusk and sweet and cunning, and Jess is so adorably sweet. I liked how the friendship between Arin and Kestrel bloomed before it became a romance, only to be snatched away. I can't say much about the last half of the book without revealing major spoilers, but there's a roll reversal that's quite well done and had me really invested. If I were to complain about one thing, it would be the voice of the narrator on the audiobook. Kestrel is supposed to be physically vulnerable, but mentally strong and capable of cold calculation. But the voice the narrator gave her made her seem very childlike and weak, which affected how I saw her character. I had to focus on the words and push away the narrator's reading of them to see how the author probably intended it to sound. Overall, would recommend!
Goodreads Rating: 4 Stars
Up Next: White Cat by Holly Black