I bought this book way back in March, arriving on my door the day it was released. But it's taken me nearly a month to read it. Why, you ask? Because a lot of stuff has been happening lately. 1) Finals. Yeah, that's right, my last finals as an undergrad. 2) I graduated. I'm done with undergrad and received my BA. I still haven't really internalized this yet, but there was much celebration. 3) I moved. Once again I packed up my life and moved it somewhere else. It's crazy to think that in as short a time as a year I might be settling somewhere new and staying there for more than 9 months. So yeah, life's been hectic. But last night I curled up with Shadow Scale by Rachel Hartman and finished off the last 200 pages.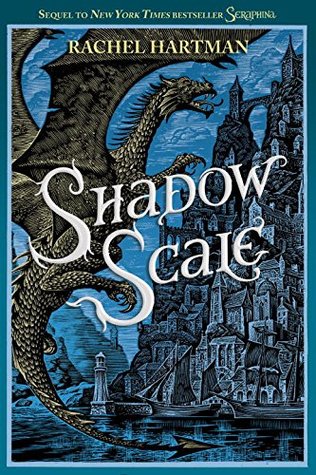 Retrieved from Goodreads
The dragons are at war with each other, and the war is coming to Goredd soon. The only thing that might stop the destruction of the country is St. Abaster's Trap which is created through the mind-fire of the half-dragons. Seraphina sets out to find the other half-dragons and bring them back to Goredd before the war reaches the capital city. But it's nowhere near easy. She has little time and a continent to travel, and the half-dragons don't all welcome her. And, lurking in the shadows of her mind, is Jannoula, the manipulative half-dragon with her own mysterious agenda. Seraphina must learn about the powers of the half-dragons if she hopes to understand those around her, and the plan of Jannoula.
So different from the first book, Seraphina. Mostly a character study, I would say the best part of this book is experiencing the sprawling world Hartman introduced in the first book. Her prose is so beautiful and her descriptions of the different countries, cultures, and people so diverse, I just wanted to curl up in the pages and see it all. It was beautiful, intriguing, and realistic while still making me curious about the half-dragons. Seraphina's romance with Lucian takes not so much a backseat but a different car entirely in this story, which instead focuses much more on Seraphina's desperate desire to join the half-dragons together so she can have a family. This book is not fast paced by any means, but it's still enjoyable. The climax is interesting, and I sort of wish it had more tension in the build-up as the calmness seemed at odds with the stakes. I also wish there had been more of a denouement because I just wanted to know how the rest of their lives turned out since so much had changed and been revealed that had political importance. Here's hoping the other books set in this world hint at it. Oh, and that epilogue. You know how normally books end on sort of a sad note, and the epilogue picks you up and is happy? Yeah, no. Story ended happily and then the epilogue made me cry. I will happily curl up in any future book of Hartman's.
Goodreads Rating: 5 Stars
Up Next: Ignite Me by Tahereh Mafi