Yup, definitely on a roll with the audiobooks. Night before last I relaxed and noodled around on the computer and listened to about half of The Luxe by Anna Godbersen, and then the other half yesterday. Now I'm nearly a third of the way through Sapphire Blue by Kerstin Gier. It's been lovely to be able to multitask with cleaning and cooking and reading. I've also been reading a manuscript for my current internship and enjoying the lovely weather we've been having the last few days in the Pacific Northwest.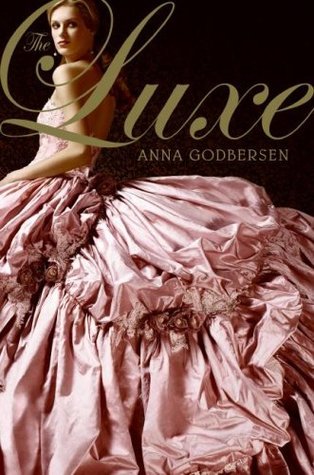 Retrieved from Goodreads
Elizabeth and the Holland family are part of New York's royalty in 1899, with Elizabeth just returned from a year in Paris. There are fancy balls and afternoon callers and beautiful dresses. But the Holland family isn't as secure in their fortune as they thought. Now Elizabeth must marry the wealthy Henry Schoonmaker, the beau of her friend Penelope. And marry him she will, although there is no love between them. Will, the coachman, is the love of her life, but without the marriage the family will become destitute, and Elizabeth can't do that to them.
A lovely, light book full of the social intrigue I adore. This book kept reminding me of Eva Ibbotson's books, where there are a large variety of characters with an exotic setting as the backdrop. No one in this story gets really really deeply fleshed out, but the fun part is seeing how the social lives of the characters intertwine to result in scandal, love, and heartbreak. I listened to this as an audiobook and I must say, the narrator's voice was spot on. There was sass and vulnerability and it was much appreciated. I will say that the climax wasn't very climaxy, but honestly I was just having a good romp with the characters and didn't mind so much. I'll definitely read the sequels.
Goodreads Rating: 4 Stars
Up Next: Sapphire Blue by Kerstin Gier