It's been a tough two weeks. I've had a lot of school work to do and I've been getting over a virus that left me exhausted and I've been stressed out in general. But I've also been slowly working through To All the Boys I've Loved Before by Jenny Han. It's been slow going for reasons I'll get into later, but I finished it today while procrastinating on writing a short story about a hoarder whose son discovers she's been keeping the remains of his dead father in the house for years. Cheery stuff, ya know. Well, here we go!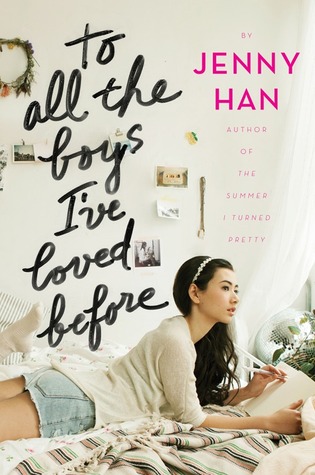 Retrieved from Goodreads
Lara Jean has been in love five times. And every time she wrote the boy a letter, sealed it up, put it in her hatbox, and got over it. Now her sister Margot is going off to college in Scotland and she's going to have to take care of the household because her dad's always at work. And Margot is leaving behind Josh, her ex-boyfriend and the boy next door to whom one of Lara Jean's letters is addressed. Then one day, somehow, the letters get sent, and Josh knows, and so do all the rest. To make Josh think she's over him, Lara Jean teams up with Peter Kavinsky, an old crush, in a fake relationship. But then those fake moments with Peter start to seem real, and she's not sure what she feels anymore.
Well I'm very glad this book was on sale when I got it for my Kindle. It sounded cute, and I haven't read a ton of YA contemporary and I've been trying to fix that lately with installments like Panic by Lauren Oliver and Eleanor & Park by Rainbow Rowell. I thought I could have a nice, light read during a really tough week at school. And I think I would have liked this book a lot more if the voice hadn't been wrong for this story. Lara Jean didn't sound sixteen going on seventeen. She sounded more like twelve going on thirteen, that's how young her voice was. So it was sort of creepy when she talked about sex. And I didn't like that the thing she wanted most in the world was to belong to someone. Or that she was required to be a mother and a housekeeper to her family when they could clearly have afforded a once a week maid or something. It always makes me mad when children are made to take care of the household including mothering their siblings, but it works as long as the book is aware that it's happening. This book treated it more like Lara Jean was playing house and sometimes it went wrong and she was sad. I just...this book dragged on for me. There wasn't any real action until the last chapter, and the ending totally didn't resolve it satisfactorily, and I didn't understand why Lara Jean ended up liking Peter when they had basically nothing in common. The one thing I will say in this book's favor is that it made me hungry a lot. Lots of food porn. Oh, and there were good specific details about characters that, if the tone of the book had been older, would have made me think they were nicely individual instead of childish teenagers.
Goodreads Rating: 2 Stars
Up next: Snow Like Ashes by Sara Raasch