What A Boy Needs is a companion novel to What A Boy Wants by Nyrae Dawn. I read the first book I think about two years ago after reading YAtopia and seeing it promoted there. Well, I thought it was a nice, quick read, so I thought I'd give the companion a try. I've got a crazy busy week ahead of me, and I can't believe it's only Tuesday, so I'm making sure to give myself time to read for fun.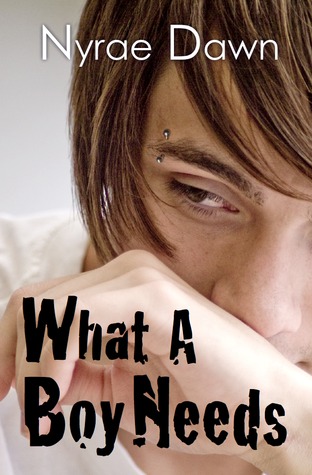 Retrieved from Goodreads
Jaden knows he's not good enough for Pris. His father's always telling him how he's worthless, and his mother never sticks up for him so he might just be right. It's graduation time, and Jaden's supposed to go on a road trip to New York with Aspen, Sebastian, and Pris before they start at NYU. But Jaden's not sure he should go. He's always freeloading, and he didn't get into NYU, and besides, better he leave his friends before they inevitably leave him. If only he could set things right with Pris after their disastrous nearly-kiss last summer, maybe he'd feel a bit better.
The editor in me cringed every time I found a typo. But all in all, another quick read. I thought the pacing was off, with too much time spent on small things and conversations not lasting long enough, and there was a lot of repetition of what Jaden's problems were so the reader wouldn't forget, and far too many uses of "man" and "or whatever." I knew the author was trying to get inside a guy's head, but seriously it started to wear on me. The ending was good, and vindicating, although I also had some issues with Jaden's resolution with his mom. I don't know, this book just didn't grab me. I didn't laugh like I did with What A Boy Wants, but it wasn't so dark I felt really sad for Jaden. Also, Aspen basically never talked. That bothered me. I think this book just wasn't for me.
Goodreads Rating: 2 Stars
Up Next: Eleanor & Park by Rainbow Rowell