Back in the saddle again! I just started my final quarter at university, and it's shaping up to kick me in the butt. I've been spending most of my time reading, and sadly most of it isn't for pleasure. But in the last couple days I've been feeling withdrawals, so I simultaneously read Panic by Lauren Oliver and In Your Dreams by Kristan Higgins. I'll probably post the review of In Your Dreams tomorrow if I'm not too buried with reading. Anywho, on with the show!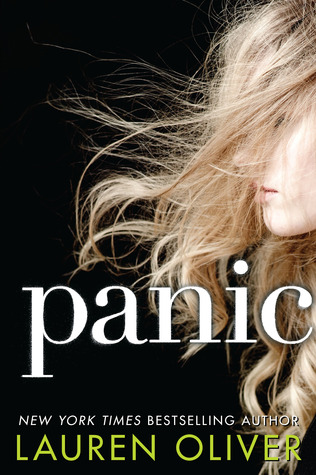 Retrieved from Goodreds
Panic started as a way to fill the empty days of summer in Carp. Graduated seniors could participate in the challenges, and the last one standing (literally) took home the huge pot. This year Heather entered. She wasn't planning on it, but her boyfriend had just dumped her, and suddenly she was competing in the terrifying challenges that could leave her dead. Dodge is doing Panic for other reasons. Two years ago his sister Dayna had almost won Panic, but in the final event someone tampered with her car and now she'll never walk again. He intends to get even or die trying.
I've seen some people complaining that from the description on Goodreads this book sounds like another Hunger Games rip-off. Well, I'm here to tell you it isn't. It's a contemporary setting, and it's almost scarier for it. The stuff the players have to do/survive is not glossy or highly mechanized. It's simple, dangerous, scary, like breaking into the house of a gun-happy drunk and stealing something. I enjoyed these parts because Oliver can write suspense pretty well. The beginning was choppy and threw me. I didn't really understand what was happening till a few chapters in. And some suspenseful parts ended too quickly. And the ending felt a little too gift-wrapped to fit the rest of the story. But the characters are delightfully flawed and there's some great imagery of life in Carp. It's a nice, quick read, and a standalone. I liked Before I Fall more, but this was still a good book.
Goodreads Rating: 3 Stars
Up Next: In Your Dreams by Kristan Higgins