As promised, here is my review of Kristan Higgins' 4th installment in the Blue Heron series. I adore Kristan Higgins. Her books are sorta light in romance, but they are funny and spunky and sweet and at times excruciatingly awkward. And they are perfect for a week like the one I've had. I'm so tired, and haven't been sleeping well. I've had quite a bit of work, much of it the kind where I nod off while doing it. So it's been nice to take some time to slip into the world of Manningsport, New York where there are cute puppies and baked goods and laughs abundant.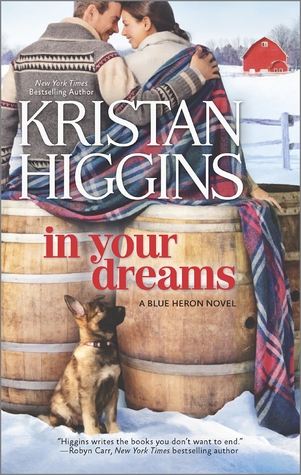 Retrieved from Goodreads
Emmaline Neal needs a date to her ex-fiance's wedding. Just someone to help her survive watching the man she was with for 17 years get married. But in Manningsport, single men are hard to find these days. But when Faith Holland offers up her brother Jack, it seems like the perfect solution. Neither of them are looking to be in love, he's one of the nicest men around, and it'll get him away from all the people who've been calling him a hero for saving those kids. But when the wedding night takes a passionate turn, Em's heart might be in danger.
Oh the people of Manningsport, New York, how I love you all. Four books in, I feel like I know this town very well. So when I get to see little snippets of Lorelei's bakery and Colleen O'Rourke busting on her brother, and Levi Cooper going sappy when his wife is mentioned and Goggy and Pops bickering, it feels like home. I could just curl up in this book and go to sleep it's so comfortable to be in. Higgins' employs delicious flashbacks that are sometimes a bit too long but always a pleasure to read. There are awkward moment and sizzly ones, and (as always) laughter. Jack is an endearing love interest with a White Knight complex and suffering from PTSD. His conflict with the parents of the one person who he couldn't save made me so sad. Emmaline is funny and very real, having suffered from a stutter and an ongoing image problem. When the two had their sweet moments I awwed out loud, which is a feat. Love Higgins', will always love her, when's the next one?
Goodreads Rating: 4 Stars
Up Next: The Winner's Curse by Marie Rutkoski