It's been a couple lovely days of almost constant reading and watching Marvel movies. On the downside, the day after Christmas the water heater broke and I haven't been able to take a real shower in three days. Which sucks, since I really like my showers. But anyway, that's not the point. The point is that I have read four novellas and This Shattered World over the past couple days. This Shattered World is a companionesque sequel to These Broken Stars by Amie Kaufman and Megan Spooner. Well, here we go!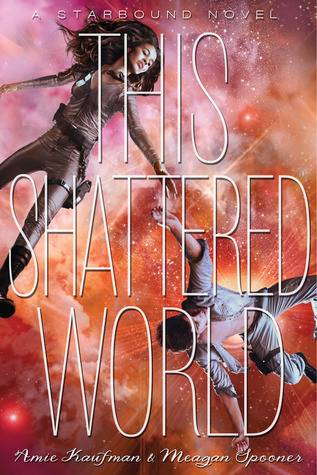 Retrieved from Goodreads
Jubilee Chase is a stone-cold soldier, a lifer on the planet of Avon. Avon is a giant swamp, and the terraforming hasn't been as successful as it should be, leaving the planet and its people without the independence that comes with being granted freedoms by the Galactic Council. The people are angry, but Flynn Cormac knows that all-out war against the military stationed there will only makes things worse. But his control is slipping. When he captures Jubilee with the hopes of her giving him information about a secret base that popped up overnight in the east, it could be the end of the ceasefire, or it could just provide the peace and answers Avon has needed for decades. If they can stand to work together.
Where These Broken Stars was a survival novel about two people stranded in the wilderness all on their own and falling in love, This Shattered World is a story about how war breaks you, and how the slightest spark can light a fire of violence. Jubilee and Flynn's relationship grows into respect and friendship, with the possibility of love. One of the best parts of this book I think is that it doesn't get too bogged down in having them fall in love. The groundwork is laid, but they know Avon is more important. There's a line in there where Jubilee says she doesn't know if she loves Flynn, but she'd like the chance to find out. And that's the important thing. It's imperative to stop the rebels and the military from breaking the ceasefire, to find out why off-worlders eventually go crazy on Avon, to save as many lives as possible. The pace lagged in a couple places, but I greatly enjoyed this second installment in the Starbound books.
Goodreads Rating: 5 Stars
Up Next: Perfect Lies by Kiersten White