Well I'm on break! I've been reading and sleeping and watching Merlin. It's been heavenly. I have big plans to see a ton of movies this break (Big Hero 6, The Hobbit, The Imitation Game). But for now, here's a review of Princess of the Silver Wood by Jessica Day George. This is the third book in the series about the 12 dancing princesses.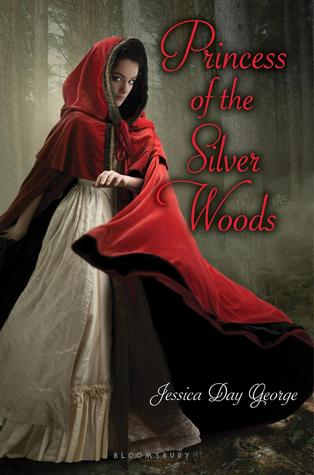 Retrieved from Goodreads
Petunia, the youngest of King Gregor's twelve daughters, was only six when the spell that made her and her twelve sisters dance every night was broken. Now she's back from the royal exchange of princesses, and she's visiting an old friend on her estate. But she dreams of the princes Under Stone most nights. And the road she travels is littered with wolves, both two-legged and four-legged. But when she is taken captive by Oliver, a former earl, she discovers the wolves to be much kinder and intent on redistributing the wealth of the kingdom. When she is freed and arrives on the estate, she discovers that her enemies were not in the woods, but in the castle.
It's hard to describe this book. It is probably my least favorite of the 12 dancing princesses saga. Rose was so badass and Galen such a nice guy with his knitting. I liked the twist on Cinderella in Princess of Glass. This one...I didn't feel a connection between Oliver and Petunia. A lot of time was spent reiterating Oliver's problems to the reader when they already knew it. What I probably liked most was the connection between the 12 sisters and their desire to beat the King Under Stone. They were all fierce but vulnerable, and I liked that they were all trained with pistols. It's a fast read, and not a complicated one. Not the ending to the series I would have liked, but it was decent.
Goodreads Rating: 3 Stars