Yup, it's that time of year again. For the past few Christmases I have picked a new book and read it in one long sitting. Well, this year I mixed things up a little, and read a book on Christmas Eve. Don't get me wrong, I also read on Christmas, but I didn't finish off that book. I'll have a review on that one probably tomorrow or the next day. But for today I'm here to talk to you about Isla and the Happily Ever After by Stephanie Perkins.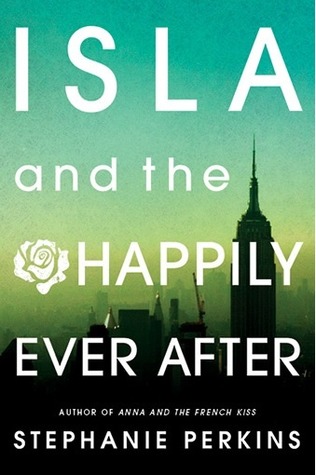 Retrieved from Goodreads
Isla Martin has been in love with Josh Wasserstein since their first year at the boarding school in Paris. But she's never had the courage to strike up a conversation with him, much less profess her love until some pain meds for her wisdom teeth removal recovery prompt her to talk to him while they're home for the summer in New York. As their senior year at the School of America in Paris starts, it looks like romance could be on the horizon for the pair, if they can survive the drama of friends, family, and college applications.
I just love Perkins' works. My writing style in Balancing Act has been compared to it several times which is very flattering. I love how Perkins paints the insecurities of young girls and the over-analyzing. And what I truly love is how these characters have to evolve on their own, generally independently of their love interest, although the introspection might be prompted by them. They are strong girls who are vulnerable, who aren't perfect, and have no wish to be. I also love how each book paints a setting that is almost its own character in her books. In Anna and the French Kiss it was Paris, in Lola and the Boy Next Door it was SF. Isla breaks this mold with neither New York, Paris, or Rome taking the center stage. But I loved this, because Isla doesn't have a city that she loves most, that claims her. That would make her life and the choices she has to make in the book too simple. So I was pleased with that where I know it bothered other readers. Let's see. I greatly enjoyed seeing another side of Josh, and all the insecurities he carried. There were a few awkward bits that were so bad I had to put the book down and wince, so good on you, Perkins, that's hard to do! Overall I greatly enjoyed this last installment of Perkins' series.
Goodreads Rating: 5 Stars
Up Next: This Shattered World by Amie Kaufman and Megan Spooner