I adore the Legend series by Marie Lu. I adored June Iparis and her way of noticing tiny things a la Sherlock Holmes. So when that series ended I was very sad. But then I heard that she had a new series coming out and I got excited! That series starts with The Young Elite. I had a crazy busy week, and as you all know I've had practically no time or energy for pleasure reading. Well this week I sort of broke and read 2 books and 4 novellas. It was fantastic and I'm excited to get back into reading whenever I can. Anyways, on with the show!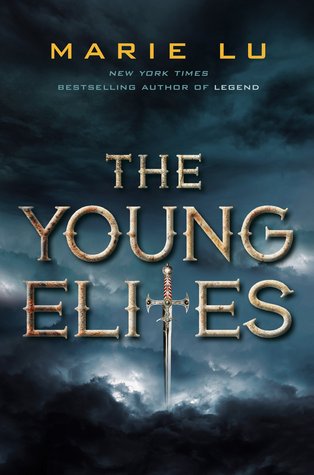 Retrieved from Goodreads
Adelina has been pushed aside her whole life for her beautiful sister who wasn't marked by the blood fever. For not having the courtesy to have the powers some of the people who survived the fever manifested. That is, until the night she runs away and those powers awaken. Then Adelina is thrown into a world where the Inquisition tracks down the Young Elites and kills them, and the Daggers (a society of Young Elites) are training Adelina to use her powers of illusion to help them overthrow the king. She should feel happy, but the Inquisition has her sister, and Adelina hates and loves the feeling she gets when she uses her power to inflict fear.
This book has sort of a weird start, with lots of flashbacks to Adelina's childhood and how she came to crave revenge and feel power from fear. But it picks up after she starts training with the Young Elites, and by the end I was forgetting to blink I was reading so fast. I love a heroine with a powerful dark side, and I love heroines who are also villains. Also, the power of illusion? Super cool. I thought parts of the ending were rushed, but I'll be excited to read the next book in this series. I liked Legend more, but this is a good, fast-paced book.
Goodreads Rating: 4 Stars
Up Next: Looking for Alaska by John Green