I received a very special delivery today! A copy of Heir of Fire by Sarah J. Maas, author of one of my favorite series, the Throne of Glass. I had my SO over for a couple days and we spent quite a lot of that time reading. So I decided to read a book the I could finish before HoF got here. That book was Tiger Lily by Jodi Lynn Anderson. I didn't expect to love it as much as I did.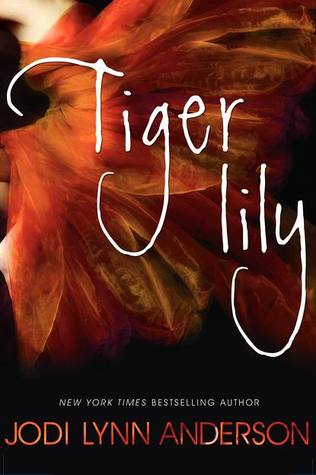 Retrieved from Goodreads
"Before Peter Pan belonged to Wendy, he belonged to the girl with the crow feather in her hair. Fifteen-year-old Tiger Lily doesn't believe in love stories or happy endings. Then she meets the alluring teenage Peter Pan in the forbidden woods of Neverland and immediately falls under his spell. Peter is unlike anyone she's ever known. Impetuous and brave, he both scares and enthralls her. As the leader of the Lost Boys, the most fearsome of Neverland's inhabitants, Peter is an unthinkable match for Tiger Lily. Soon, she is risking everything--her family, her future-- to be with him. Wen she is faced with marriage to a terrible man in her won trive, she must choose between the life she's always known and running away to an uncertain future with Peter." - Goodreads
I was sad for this entire book. Because it's beautifully written and gorgeously sad, and I loved how wrong and how right Tiger Lily's relationship with Peter was. It just...words can't describe. I've read some reviews of people who didn't like this take on Peter Pan because he was older and not supposed to understand love or girls etc. Honestly I think a retelling should take what liberties it wants as long as it does them well. And this book did them well. Oh, Tiger Lily's heartbreak is so realistic and so in character. And I loved the idea of having it all told from Tink's perspective. I felt so bad for her that no one listened to her and that she couldn't talk. Yes, it's not the fastest paced book and the climax isn't really climax-y, but I loved the way Anderson put sentences together. And to make me feel content and sad at the same time for an entire book is quite a feat for any author. Bravo, Anderson, bravo.
Goodreads Rating: 4 Stars
Up Next: Heir of Fire by Sarah J. Maas