Well, I did it again, guys. I stopped reading for about a week. I have no excuse. I watched a lot of netflix and played a lot of nonograms. I slept a *lot.* I also spent time with my best friend who is moving to another state this week. Which happens to be how I received this book! Her mother suggested it and lent me a copy so I thought I should get a move on. I don't know about you, but I always get anxious when people keep copies of my books for a long time.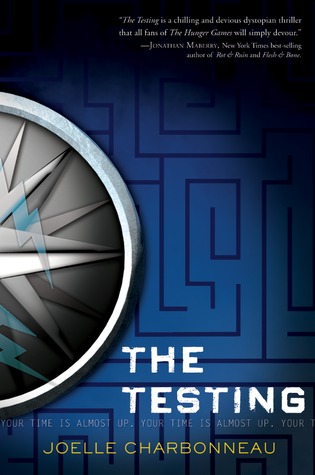 Retrieved from Goodreads
Malencia has been chosen for The Testing. This is a rigorous set of tests by the government to determine who should be the next leaders of the government. Only it's a lot more deadly than Malencia could have imagined. All she has going for her is what she learned back in the Five Lakes Colony and Tomas, a classmate who's just as able as she is. Malencia has to pass The Testing, or die trying.
Honestly, this book is a quick read. It deals with survival in a sort of similar way to Ashfall, without spending too long going into the specifics. However, while this is a quick read I have never read a book so similar to the Hunger Games, and I've read quite a bit of dystopian as my reviews will attest. And I know there are only so many frameworks for novels, but this one was so similar that I couldn't help but be bothered by it. Forget the cliched oppressive government and the stereotypical charred landscape from an unexplained war. For me the biggest problem beyond the parallels between it and the Hunger Games was that it had no heart. I cared about Katniss. I didn't care about Cia. She had almost no personality of her own but was merely a narrator of what happened. I didn't believe her caring for Tomas, and by the end I didn't care if she survived The Testing (who kills off the best and brightest in a failing government? Also a flaw with the concept of this book). I wanted to like this book because it was recommended to me by a friend. And in some ways I did. I liked that the writing was tight and the action fast paced. But in the end I don't think I'll be reading the next one. I've already read Catching Fire after all.
Goodreads Rating: 3 Stars
Up Next: Fever by Lauren DeStefano