Oh, guys. Guys guys guys guys guys. I love Sarah J. Maas on a level nearing that of my love of Maggie Stiefvater and almond roca. I love her badass heroine assassin and her beautiful world and her food porn. She shows that you can be girly and kick butt at the same time. And I love that because I think that often heroines who are tough aren't allowed to be girly. And I want the world to know it's okay to be girly and tough and non-girly and non-tough. It's all good. Be who you are. Unless you want to be a serial killer. Don't do that. But I digress. As usual, this is a sequel, so mild spoilers.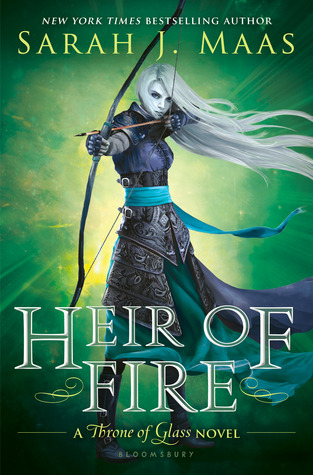 Retrieved from Goodreads
Celaena Sardothien has left Adarlan for the shores of Wendlyn, the home of the Fae, a land where magic is still practiced. She needs answers about the Wyrdkeys from the queen of the Fae, Maeve, but first she must prove herself worthy by training with Rowan. Her training makes her face the horrible truths about herself and her past, and whether or not she can get past them to keep her promise to her dead friend Nehemia. At the same time Dorian and Chaol are in Rifthold, Dorian trying to keep his magic a secret from his father, and Chaol about to leave for his ancestral lands. But the rebel groups are surrounding them, and if they want to help Celaena they may have no choice but to expose who they are.
Oh this book. Manon Blackbeak and her wyverns. Celaena and Rowan. Oh, guys, I just love them all. I wish there had been more space for Dorian and Chaol, but there just wasn't with everything going on. I loved Celaena's inner turmoil in this book and how more layers of her personality are explored, so you see a real transition from the flirty, mysterious assassin from Throne of Glass to Heir of Fire. She's just...oh I love her. She's so tough and flawed and funny. I'd like to think we'd be friends in real life. And Rowan. His story just killed me, and I want to know more about him. But no romance with him and Celaena please! Uh uh! I am completely team Chaolaena. Even if he has a hard time accepting her, I want them together so bad! I guess if I were to pick one character I wasn't totally sold on, it would be Sorscha. I think she was good to Dorian and soothed his pains and everything, but she felt more like a plot device than anything. Okay, so I could go on about this book for ages so I guess I'll sum it up because this review got more scattered than I'd intended. Heir of Fire is slower paced than the previous two books in the series, but a good, hefty middle book that left me craving the next one. I hate that it's year away. If you haven't picked up this series yet, do it now. Please. It's for your own good.
Goodreads Rating: 5 Stars
Up Next: Of Triton by Anna Banks