Last year I read Mila 2.0 after seeing Debra Driza at a book signing on the Dark Days tour. This year the sequel, Renegade, came out. As I had a pleasant time reading the first one I had no reservations about this middle book beyond the usual. So in between making raspberry lemonade bars (didn't turn out that well) and baked four cheese chicken pasta (I will eat it forever and ever it's so yummy) I polished off Renegade. As usual, beware mild spoilers.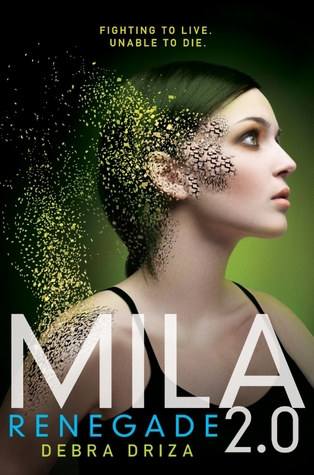 Retrieved from Goodreads
Mila's mother is dead and she has no one left to turn to. Except Hunter, an innocent boy from her old high school who doesn't know what she is. She doesn't know what her future will be. All she has to go on are the names Richard Grady and Sarah. Travelling with Hunter, Mila sets out to discover the people her mother mentioned with her last breaths.
Action-wise this book is much slower than Mila 2.0. But it's been over a year since I read that book, so I had a hard time holding it up to its predecessor. I will say that the first 100 pages were a bit of a slog before stuff starts rolling, but I really started to enjoy it once I hit the 200 page mark. I really enjoyed Mila's struggles with her emotions, as she has basically accepted the fact of her humanity. I was a little tired of Hunter and honestly thought the book would have been just fine without him. But he was there and I didn't mind. There are some minor revelations about the Vita Obscura and the people around Mila, but nothing earth shattering. It felt a bit like a slow middle book but I still enjoyed it and will read the final installment.
Goodreads Rating: 4 Stars
Up Next: The Twice Lost by Sarah Porter