I am home from the shores of Hawaii! One weird tan line, many macadamia nuts, and several twelve foot manta rays later, I am exhausted. I went zip lining, saw leaping dolphins, flying fish, bioluminescent plankton, swam with a turtle and tens of manta rays. I tried ono fish and chips and ate not nearly enough chocolate. And I read! I only finished two books, which was disappointing, but it turns out it's hard to read in the car when the roads are really windy and there's a lot of sun. I've already reviewed Unite Me for you, but I also polished off The Mark of Athena by Rick Riordan.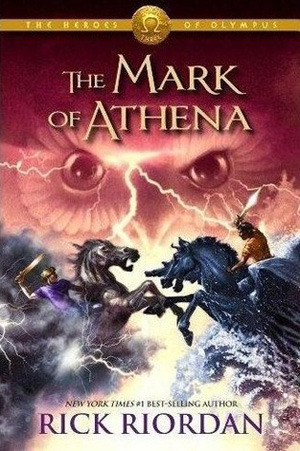 Retrieved from Goodreads
The attempt to unite the Roman and Greek half-blood camps goes south really fast. But the seven demigods the prophecy referred to are now underway to the ancient lands: Rome. They are outrunning the angry Romans behind them and running out of time. Nico has been trapped by twin giants and only has a few days left to live. Meanwhile the giants can only be defeated with the help of a god, and the gods are having trouble of their own as they keep switching between their Greek and Roman aspects. Athena has given Annabeth the task of avenging her old grievance between the Romans. One problem, though: hundreds of Athenian children have tried before and died. But succeeding may mean finding a way to defeating the giants and Gaea once and for all.
I actually found that synopsis hard to write! There is far more going on than what I said. The demigods have a hard time working as a group since Jason and Percy are used to being the leaders. There's a lot of tension between Frank, Leo, and Hazel because of Hazel's past. I really liked this book. It's a hefty read at nearly 600 pages, and it would have been even longer without a nice little change in Riordan's writing. The demigods routinely split into groups to fulfill different parts of a task. And it would take forever to describe what happens to both groups each time. So he doesn't have entire scenes devoted to it, but you learn a bit about the conflict which occurs. I found it nice! Also, I really want to know more about what's happening with Frank/Leo/Hazel. It's so freaky and cool! I'm hoping The House of Hades will go more in depth with it. There was a section of the book that lagged a bit (Leo/Frank/Hazel going underground, Annabeth starting the solo part of her quest, Percy/Jason/Piper going underground) but it picked right up after that. Can't believe I have to wait for THoH to come out in paperback. Hmph. Especially because of the cliffhanger!
Goodreads Rating: 4 Stars
Up Next: Forever by Maggie Stiefvater