When I was in London I was completely bummed to discover that I would miss Laini Taylor when she went to Washington. Then I was bummed again when I found out that her leg in London would fall right over the time I was going to be in Ireland. I ordered the final book in her Daughter of Smoke and Bone series while I was abroad, fully intending to start it the day I got back from England. But when I got home, I found I couldn't do it. I was so scared to start the last book in a series I have adored. So I read like ten other books before my SO finally knocked some sense into me. So over the last few days I worked my way through Dreams of Gods and Monsters.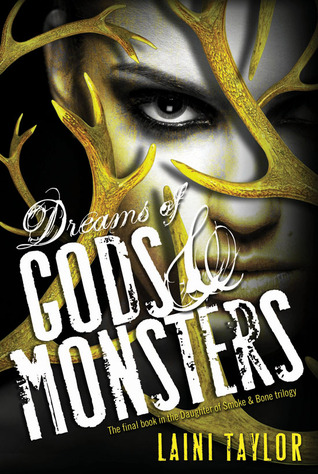 Retrieved from Goodreads
Two worlds have collided. Angels and beasts have come to Earth, and the leader of the angels, Jael, intends to get human weapons to help in his war against the chimaera. Meanwhile, Karou the resurrectionist and Akiva the bastard nephew of Jael forge an uneasy alliance between the Misbegotten angels and the remaining chimaera. Their goal is to stop Jael from getting weapons, and to somehow forge a lasting peace among all angels and chimaera. But at the same time the sky is bruising, and the Stelian angels of the Far Isles are the only ones who know why or how to stop it.
Daughter of Smoke and Bone was a gorgeous tapestry of characters and Prague. I fell in love with Akiva and Karou and Mik and Zuzana as they discovered worlds they'd forgotten they knew. I fell in love with Taylor's beautiful way of writing and a love that surpassed hundreds of years of war. In Days of Blood and Starlight I ached as both Karou and Akiva were at odds and in such deep misery it left me feeling moribund. Building an army from death, stopping and yet aiding a mass genocide. I was taken to the horrible beauty of Eretz and the dry horrors of Morocco. In Dreams of Gods and Monsters everything comes back together. I was introduced to new characters that I grew to love, and I lost characters I had loved previously. Taylor painted a realistic view of what angels coming to Earth would be like, and showed how disparate the worlds of Earth and Eretz were. If the pace lagged, if I wanted Akiva and Karou to snag a moment together and they didn't, I didn't care. Because Taylor's writing made up for all of it. If the climax was a fizzle, it was surpassed by the beauty of seeing things reborn. I am not sad, as I was at the end of DoBaS, or shocked as at the end of DoSaB. Instead I feel whole, as though what could have happened did. And, even better, I smell spin-off. Because with a new battle on the horizon for Eretz, and some new characters and culture available, I can't imagine Taylor would abandon them. And I'll be pre-ordering as soon as possible.
Goodreads Rating: 5 Stars
Up Next: Vortex by S.J. Kincaid