I know, I know, it's been like a week since I've finished a book. I should have an excuse, but I don't really. I've been tired and trying to get chores done. I'm also working on another project for work. But honestly I've had a lot of time on my hands that I've been using to do seed beading and watch Gilmore Girls for the hundredth time. But yesterday I sat down and finished off Dark Triumph, the sequel to Grave Mercy by Robin LaFevers which I read a year ago. Beware: mild spoilers.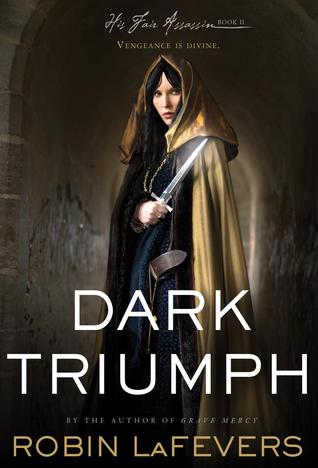 Retrieved from Goodreads
Sybella is a handmaiden of Saint Mortain, trained as an assassin and sent into the D'Albret household to spy on his movements and plans surrounding the Duchess Anne who's trying to keep her duchy from the control of the French. But Sybella's skills are little comfort considering D'Albret is her father who's hated her for years, and her brother Julian has a twisted love of her. When Sybella receives orders to free a prisoner of D'Albret, she risks her life and her heart to do so.
Where Grave Mercy was political intrigue and setting the backdrop for Anne's attempt to keep her duchy and herself unwed to D'Albret, this book is more intimate. Sybella struggles with depression and horrid memories of her family. She also doubts Mortain's existence and her place as his handmaiden. She is cold and calculating and vulnerable. She suspects the worst of everyone, which I found very sad but believable once you hear her story. I found her mild romance with the prisoner Beast to be sweet, but was glad it wasn't the focus of the book. There were some parts where the action lagged for me, and I wish I'd gotten to see more of Duval and Ismae from Grave Mercy. But overall this was an enjoyable read and I'll be pleased to read Mortal Heart when it comes out in paperback.
Goodreads Rating: 4 Stars
Up Next: Dreams of Gods and Monsters by Laini Taylor