After finishing up The Selection Stories yesterday I dove right into Spell Bound by Rachel Hawkins, the last book in her Hex Hall series. I'm still recovering from jet lag, and now it seems I have a cold on my hands. Or, more accurately, in my throat. Sooo I'm not the most lively person at the moment. I have already reviewed the first two books in the Hex Hall series (Hex Hall and Demonglass), so beware, there will be spoilers.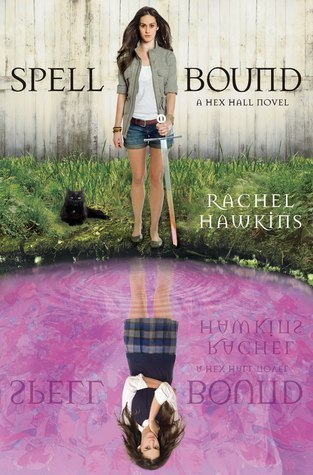 Retrieved from Goodreads
Sometimes magic sucks. Especially when it's been trapped inside you so you can't use it, and taken away from your father, and used to turn innocent kids into demons to wipe out the human race. Sophie Mercer just escaped the evil witches, the Casnoffs, but the last thing she saw was her fiance Cal running back into the burning house to save her father and boyfriend. So things aren't looking too good. Then she's attacked by a ninja twelve year old who turns out to be a monster-hunting Brannick who is also her cousin. With the Casnoffs attempting to build a demon army, Sophie teams up with her father, mother, the Brannicks, her boyfriend, her fiance, and her vampire best friend to defeat them. Which is a great plan until she, Cal, Archer, and Jenna are transported back to Hex Hall where they are told they are to start the new semester.
I have described this book as similar to Harry Potter. This book is the same way, with lots of witty banter in between the sad/dangerous parts. But, that being said, I think this was my least favorite book in the series. I still really enjoyed it, but things were so rushed. Emotional moments were trampled over, and there is a series of bits where Sophie is possessed by a ghost which seemed to creep me out waaay more than it creeped out Sophie. The big reveals were so....rushed. I wanted time to see people react to the Big Information, but it zipped along to the big battle at the end. And the end. Oh my god. I'm mostly happy with the way it ended, but there is one bit that just left me so sad, and it felt so unnecessary to the generally happy-go-lucky plot. Anyway, I really enjoyed reading the Hex Hall series, and I think I'll dive into School Spirits after this summer!
Goodreads Rating: 4 Stars
Up Next: House of Ivy and Sorrow by Natalie Whipple