Sorry for the silence this past week. It's been weirdly crazy. I got really popular all of a sudden and everyone has wanted to see me. Well, it's been pretty great seeing everyone. But I also haven't had time to sit down and read. I've been slowly working my way through House of Ivy and Sorrow by Natalie Whipple, and yesterday I finally finished it.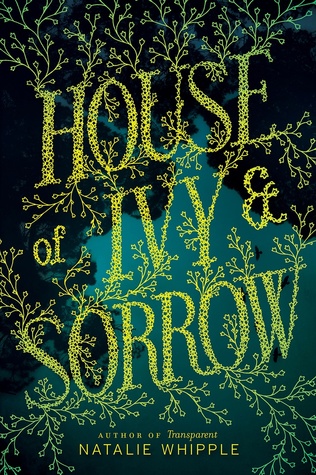 Retrieved from Goodreads
In an ivy-covered house under a freeway there lives two witches. One is the head of the house, and the other is her granddaughter Josephine Hemlock. They spend their days mixing potions and eating pudding. That is until the day Jo finds herself accosted by a strange man who knew her mother. There's something dark inside him that doesn't belong, and it's the Curse which has killed countless Hemlock women. It seems someone is out to get Jo and her grandmother. As she tries to uncover who the killer is, she comes perilously close to embracing the darker side of her magic.
This book. I don't know where to start talking about it. I guess I'll preface it by saying how much I enjoyed reading Whipple's Transparent. I also follow her blog and love her real talk about being a published author. I really wanted to love this book. It had a cool premise and a creepy title. It had some cool combinations in potions that reminded me of Claudia Gray's Spellcaster. I really wanted to love it. I just...didn't. It wasn't gothic, it had almost no narrative tension, and there was apparently a love V that I completely missed until the last 50 pages because it wasn't fleshed out. I never really got invested in the witching politics or the idea of Shadows. I liked Jo's grandmother because of her cackle and love of pudding. I disliked the instalove between Jo and her dad, even though they hadn't seen each other...ever. I ended up finishing this book feeling meh. I still want to read Whipple's Blindsided, the sequel to Transparent, and I still love her blog and tweets. I just wish I could say I loved this book.
Goodreads Rating: 3 stars
Up Next: Siege and Storm by Leigh Bardugo